WHO'S WHO?
CAST
The original cast included: Paulina Breeze (as Betty), Levern Williams, Gretchen Poole, John Michael Hersey, Alexis Myles, Kennedy Jazz, Christen Dekie, Kalia Lay, Alexandra Welch, Aigner Mizzelle, Brenna Brown, Carleton King, Lydia Stinson and Sharina Doyle.
DESIGNERS
Here are the designers and staff of the original production. Set design by Lytza Colon and Mark Marcante. Costume and prop design by Susan Hemley. Lighting design by Alexander Bartenieff. Technical/sound design by Alex Santullo. Stage manager Dylan Skorish. Assistant Stage Manager Paul Levine. Board operator Megan Horan.
AUTHOR / DIRECTOR / CO-COMPOSER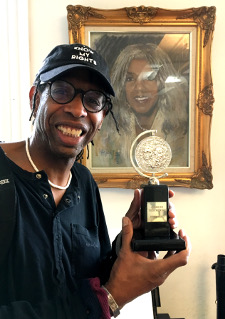 As head of La MaMa's Poetry Electric series, William Electric Black shared in its 2018 Regional Tony Award.
William Electric Black, aka Ian Ellis James, is known for his use of edgy pop styles in theater. Beside "Betty and the Belrays," his musicals include "My Boyfriend is a Zombie" (TNC, 2010), which was like Grease with a zombie twist, and "American Star!!!" (TNC, 2013), a satire of adolescents' obsessions with celebrity idol TV shows. The last of these, on its serious side, shone a canny light on magical thinking in minority youth, where lack of opportunity gives rise to "pie in the sky" dreams like instant TV stardom. Black has also written, produced and directed a series of plays and musicals for La MaMa, where he runs the Poetry Electric series.
He is also known for socially-conscious plays, high-impact dramas. His five-play GUNPLAYS Series, all produced by Theater for the New City between 2013 and 2018, dramatized the epidemic of gun violence using differing approaches and theatrical styles. In 2009, he directed Theater for the New City's sensational and serious "Lonely Soldier Monologues: Women at War in Iraq," a staged series of monologues based on a book by Helen Benedict. The play earned widespread notice and significantly helped the issues of America's female soldiers to be widely recognized for the first time.
Writing as Ian Ellis James, Black has won seven Emmys as a writer for "Sesame Street" between 1992 and 2002, composing songs for Queen Latifah, Erykah Badu, Patti Labelle, and Arrested Development (among others) when they appeared on the show. He also wrote for Nickelodeon's "Allegra's Window" and LancitMedia's "Backyard Safari." Theater for the New City gave him his start in theater, presenting his earliest work, "Billy Stars and Kid Jupiter," in 1980. Now, TNC proudly continues its tradition of supporting and developing Black's unusual and energetic theatrical work.
In a series of multimedia projects, Black has campaigned for exercise and good nutrition for young children, prescription drug awareness and obesity prevention. He has received a Bronze Apple (National Educational Video Award) for directing. He has also received several Best Play Awards and has been published by Benchmark Education, The Dramatic Publishing Co. and Smith & Krauss.
He is a faculty member at NYU's Tisch School (Dept. of Dramatic Writing/Open Arts, and NYU's Summer High School Program). He has also taught at The Collegiate School, The Riverdale Country Day School, Southern Illinois University, 92nd Street Y, Teachers & Writers and TheatreWorks USA.
He is writing, directing, and producing animated videos on stroke prevention with the National Stroke Association and childhood obesity prevention for Hip Hop Public Health under the direction of Dr. Olajide Williams featuring music by Doug E. Fresh, Chuck D, other rap artists. He has completed three short films to educate the Black faith-based community and the Hispanic faith-based community on stroke awareness. In 2015, he published an early reader, "A Gun is Not Fun" (www.agunisnotfunthebook.com) for children's education as part of a national campaign to save lives in cities across America.
CO-COMPOSERS
Co-composer Valerie Ghent has been an engineer and background vocalist for the singing duo Ashford & Simpson and keyboardist/vocalist for Deborah Harry (world tour). She is known for her bluesy, funky piano style and her stunning 3½ octave vocal range. She is founder of the Cornelia Street Cafe Songwriter's Beat.
In her work with Ahsford & Simpson, she recorded their music as well as collaborations with Nina Simone, Sir Cliff Richard, Roberta Flack, Dr. Maya Angelou, Peabo Bryson and many others. She has shared the stage with artists as diverse as Dr. Maya Angelou, Iggy Pop, Defunkt and Billy Preston. Ghent has five acclaimed CDs on her own label, West Street Records.
She mixed live-to-air "In the Spotlight," Ashford & Simpson's live weekly radio show on WRKS-FM (New York), where she recorded dozens of legendary artists, including Luther Vandross, Stevie Wonder, Dionne Warwick, Wilson Pickett, Chaka Khan, Patti LaBelle, Stephanie Mills, Freddie Jackson and George Benson. This is her third collaboration with William Electric Black.
Co composer Gary Schreiner is a multi instrumentalist and Emmy Award-winning composer for TV and Film. He has scored hundreds of TV commercials and contributed music to many TV shows and movies.
He has performed with diverse artists such as Elton John, Rosanne Cash, Joan Osborne, Patti Labelle, Pedrito Martinez, Yoko Ono, Pheobe Snow, Marvin Hamlisch, Run-DMC, Carly Simon, John Pizzarelli, Julio Fernandez (Spiro Gyra), Dave Chappelle, Chris Rock and Kermit the Frog. He recently produced the band Aztec Two Step's latest album, " Naked," and Rick Moranis' last album "My Mother's Brisket & Other Love Songs."
He collaborated with William Electric Black on the TNC productions "My Boyfriend is a Zombie" (2010) and "American Star!!!" (2013).
---